assymetrical jersey dress: COS
cage heels: deichmann
i love love love this dress/tent. it's all i want in a dress. tent potential, batwings and assymetrical shape!
see how shoes can change a whole outfit?

thick knit dress: COS
heeled doc martens: Mango

this dress was originally 99 euros down to 22. i like. warm. cosy. LOVE.

the lovely, lovely
LAURA
sent me a care package and it is beyond PERFECT. i am speechless.
how did she know that i am searching for some plaid tights like forever? and that i am a sucker for all things coconut, let alone a coconut flavoured lipgloss? i can go on ranting about the crazy eyeshadow, rockin t-shirt and some hot choco but i will not! the hot chocos are gone as we speak. YUM. i will be wearing the shirt as soon as the weather permits. can't wait. THANK YOU SWEETIE. i love everything.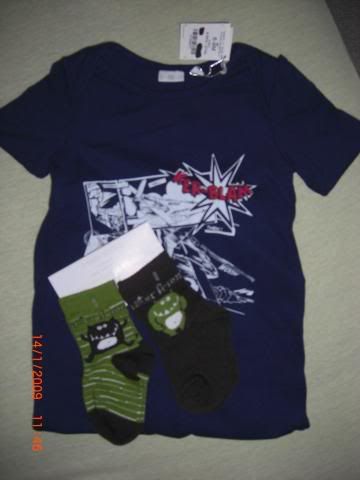 and some goodies for Miguel. he has to wait for some months though to fit in. but he's very very thankful.
i met the lovely
kim
(fruchtzwerg) at COS where else? too bad we drove there at the last minute and couldn't tell her that we were coming. though the sweet short meeting was cool. next time kim, we'll make a date.
i packed the stuff i bought in one bag. i had three bags but it was embarrassing enough that i have shopped again so let the bag explode.
i got so many awesome stuff. oh my god.