sorry for that squeeching noise. i could not help it. :) also ignore our poor singing skills. it seems that this song brings the baby to laughter. maybe it´s our voices?
add: he laughs now on an hourly basis. hihi. my camera is running out of memory space since i practically videoed every single laugh.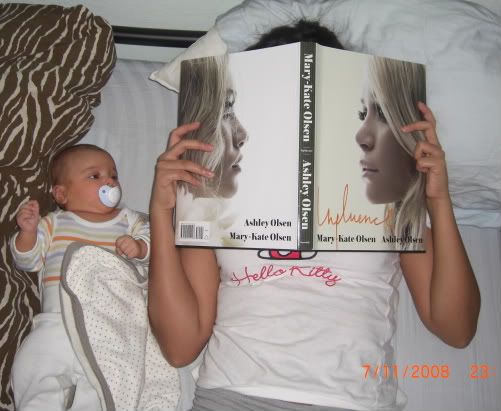 Caption this. :) Answers on a postcard.
P.S. i have added a sidebar on the blog to which i will be featuring a good find every week or day from some of my favorite online shops. since i am on a ban (this is an exception because i ordered this myself), i will be online shopping for you guys. so to start off, is this dress i have been crushing on
betty
for like forever. it's from h&m trend (that's why i couldn't buy it, we don't have trend in my local h&m). from 40 euros to 20.score right? i could imagine this dress with brown tights and booties for fall. i am excited.
this is unfortunately only for the german readers. but you better hurry, sizes are running out.
i was also able to score some h&m trend stuff. an oversized tank and shirt..kinda aa-ish, for 5 euros each. only, they disappeared the morning after i placed my order. sold-out much? i dunno. but will tell you about it when it arrives. the flapper dress arrived today, and it is a dream. le boyf thinks it's hot. the wedge booties are comfortable to death. i ordered it one size bigger since it runs small, methinks.

END OF RAMBLE