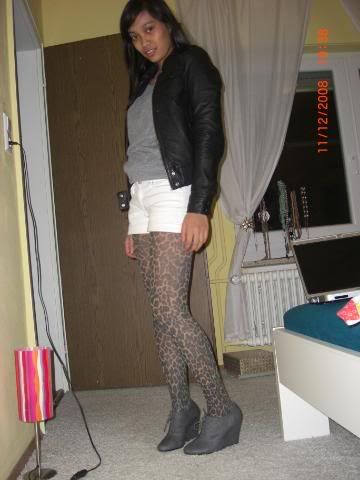 aa raglan sweater
asos leopard tights
rest: you know where it is from
hey guys! thanks for the amazing comments on the last post. i knew that the snakeskin pants would get mixed critics. all is welcome here. thank you for sharing your views, i appreciate everybody's opinion. the pants was too ugly too pass up. i know it would look 5000 times better as skinnies, as you all guys suggested but i was up to some challenge of wearing something out of my comfort zone. and it kinda worked for me. i am planning to do this more often. i mean dressing out of my comfort zone.
i got tagged by Dane (the girl whose life i wished i had sometimes.. lol) to name 6 random things that make me smile. here goes:
my baby's smell.

diy projects. i am working on a tights organizer. i want each pair to have it's own compartment. last time i counted, i have 43 pairs. crazy, i know.

organizing miguel's closet. yeah. it's color coordinated. i am gonna make a post on that. :)
christmas decorations. my boyfriend thinks i am crazy for wanting to have an extra christmas tree in the kitchen. am i alone in this?
h&m's sale section online. i swear it's loaded with cheap amazing stuff. stuff that aren't even reduced on stores. two packages are on it's way. and the fact that 99% of my closet is h&m makes my heart smile.
nat king cole's the christmas song. i effin LOVE that song!
speaking of christmas, we had our christmas party last saturday and i wore my fringe dress.