i have been watching katie holmes in her variety of jeans like everyday for ten days now? she seems to bring back the pegged jeans trend that we have all been trying to forget decades ago. what do you think, yay or nay? i think she pulls it off better than the skinny ones. her hips kinda look big on those. so what do you think, is this 1990 trend coming back to life?
on another note, the cut-off shorts trend, which i personally think
rumi
started around the blogosphere, isn't dying anytime soon. i am loving nicole richie's style in the picture. i am praying and hoping, praying and hoping that i return to my normal size after giving birth and be as chica as nicole is. i am seriously thinking of cutting of my old levis. what do you say? yay or nay?
and lastly, w magazine got the first photo of the Commes des Garcons for H&M collection. Here it is: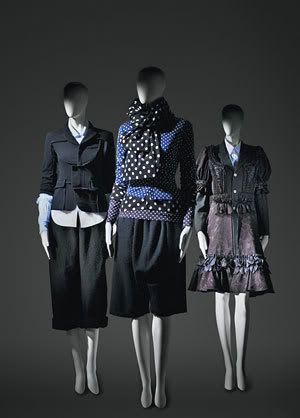 what do you think? yay or nay? all the polkas and that jean-ish coat got me excited really now. let's see. :)